This article is not available in English. Please select another language from the navigation bar at the top.
Villasta huopikkaaksi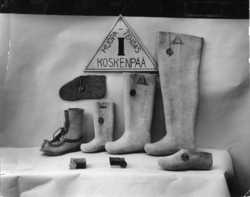 Villan käsittely valmiiksi tuotteeksi tuotteeksi on  työläs ja hidas prosessi, joka vaatii lukuisia työvaiheita. Villankäsittely on vaatinut käistyön lisäksi omat koneet ja laitteet, jotka ovat pääosin olleet tuontitavaraa. Oheiseen kuvagalleriaan on koottu villan käsittelyyn liitttyviä valokuvia Koskenpään Huopatehtaan arkistosta.
Kuvat saat suuremmaksi klikkaamalla, jolloin näet myös kuvatekstin kuvan alareunassa. Tarkemmat ohjeet kuvien suurentamisesta löydät sivuston yläreuneunan Ohje-painikkeesta.