Manufacture of sulphite spirit starts as a wartime byproduct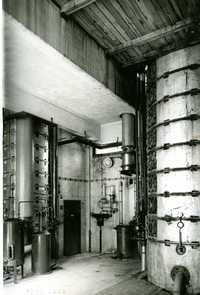 The waste liquor from cooking sulphite cellulose still contained sugars that could be used to make alcohol. The method of manufacturing sulphite spirit had been patented in Sweden, but in Finland, too, the first spirit factories had been set up as early as the 1920s. When the wartime petrol shortages hit, the value of spirit as partial replacement fuel was realised. The government granted wood processing companies permission to build spirit factories alongside sulphite cellulose works. The number of sulphite spirit factories peaked in 1944 at sixteen. The Jämsänkoski spirit factory started up in May 1944, and only operated for six months over the next two years. It was not until 1949, when the factories were connected to the national power grid, that the factory was able to operate continuously.
The alcohol manufactured by the factory - sulphite spirit - had to be sold to Oy Alko Ab. After Alko terminated its production contracts with spirit factories in 1954, almost all the factories in the country were forced to halt their production of 'stick spirit'. The Jämsänkoski factory also stool idle until the end of 1955. Thereafter, the factory operated until 1977, with the exception of a few brief breaks. Output for the whole period of operation was 51,465 tonnes of sulphite spirit.
In wartime, many pulp mills also produced so-called fodder pulp, very soft cooked pulp designed for additional nutrition of animals, dried and shredded for mixing with other fodder. Fodder pulp was especially fed to the horses in the Armed Forces and factories' horses used in forestry work. Fodder pulp was not made at Jämsänkoski, but United's Valkeakoski pulp mill manufactured it.
The following joke from Työn Äärestä magazine represents typical wartime humour: The veterinary surgeon making his inspection rounds spotted a pretty ill-groomed horse in one unit. "Private! Why have you not groomed your horse?" Private: "Best not to scratch him too much. Might soon expose the cardboard, as he's been fed on that pulp."