Air quality
At the time of the old pulp mill at the turn of the 1890s, during and after cooking the gases were released straight out of the exit pipe. Similarly, in the acid preparation sector an extractor blew the waste gases outside. It is said that when the mill Superintendent's calf went too close to sniff these pipes, it died instantly. Due to the gases emitted by the mill, all vegetation in the vicinity also died. The gas emissions were the cause of a constant presence, to a lesser or greater degree, of a sulphurous smell around the mill. Only around 1910 was the first acid recovery system obtained. The gasification pipes from boilers were led into the acid in the bottom of containers. This way, savings in costly sulphur usage were made and a more suitable cooking acid consistency obtained.
Sulphite cellulose was manufactured at Jämsänkoski until 1981. Sulphur dioxide emissions of the employed calcium bisulphite method were manyfold in comparison with sulphate-based pulp production methods. In the 1970s, air quality of the town was studied on several occasions. The results showed high concentrations of sulphur dioxide and damage to vegetation, especially coniferous trees, in the environs of the mill. The area affected by the mill's emissions was estimated at 40 square kilometres. In 1987, sulphur dioxide emissions from the mill were about 600 tonnes a day, while in the days of chemical pulp production they exceeded 10,000 tonnes a day at their worst.
Quantities of airborne pollutants today are only a fraction of the figures of two decades ago. Air quality in Jämsänjoki valley is monitored monthly by measuring airborne sulphur dioxide and particle contents at the Lamminsuo measurement station.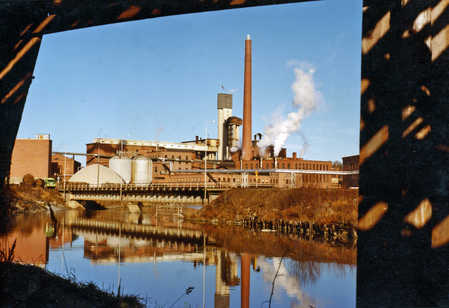 Linkki:
Ilmanlaadun mittaustulokset Jämsässä
Linkki:
Jämsänkoski ja Kaipola ympäristönsuojelun kehitys 2004