Cattle breeding and trot racing horses

Rekola farm
  replaced the indigenous Western Finland cattle breed with Ayrshires in the 1930s, and milk production of Jämsänkoski farms almost doubled. At the time of wartime food shortages, the company farm produce was of utmost importance. Due to shortage of meat, pig farms were established in all United mill towns and villages, to produce piglets to be sold to employees. Jämsänkoski also had a chicken farm. During the war, United also began sheep farming; Rutalahti and Orivesi had 400 sheep in all. The wool was used to make felts for papermaking machines.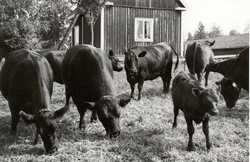 Finland's first Aberdeen Angus beef stock calves grazed on meadows near Kaipola at the turn of the 1960s. The cattle was shipped in on United's own vessel, in a byre built in the hold. The same ship contained parts for Kaipola PK 4 papermaking machine from the United States. The next batch of beef stock was also brought in along with parts for papermaking machines. By the end of the decade, the company beef stock had grown to 160 head, but dairy cattle had been discontinued altogether.
The visit of the Soviet leaders, Khrushchev and Bulganin, in 1957 resulted in an interesting barter: United Paper Mills Ltd presented its guests with two Ayrshire heifers and a calf, and in turn received a purebred trot racing horse. The gift mare later produced Kamrat-Veikko, a colt foal that later became a champion trotter. The horses were kept in Rekola farm stables. Three more trot racers were obtained from the Soviet Union and brought to Jämsänkoski.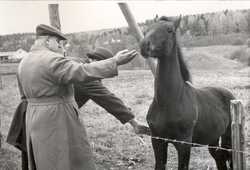 In the 1960s, Jämsänkoski and Valkeakoski mills service water cleansing plants were equipped with fish farming pools for growing trout. Jämsänkoski also had a fish hatchery producing young trout, lavaret and pike. Naturally, fish dishes were often on the company club menu. United Paper Mills Ltd abandoned agriculture at the start of the 1970s, and Rekola farm and market garden were closed.