This article is not available in English. Please select another language from the navigation bar at the top.
Haaviston kyläosasto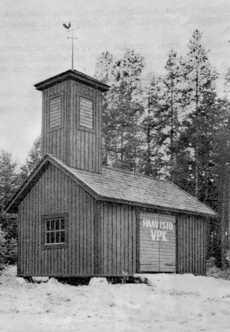 Jämsänkosken VPK perusti Haavistoon kyläosaston 25.3.1931. Osaston jäsenmäärä oli tuolloin 35. Päällikkönä toimi osaston perustaja maaviljelijä Otto Sovijärvi. Myöhemmin päällikkyys siirtyi mestari Matti Sovijärvelle.
Esimerkiksi vuonna 1954 sen kalusto käsitti käsivoimaruiskun, 2 paineletkua ja 10 kpl sankoruiskuja jaettuina maataloihin.
Kun Jämsänkosken VPK:n autokanta parani 60- ja 70-luvuilla pääsy Jämsänkoskelta käsin Haaviston paloille nopeutui ja kyläosaston tarpeellisuus väheni. Lopulta Haaviston palopiiri lakkautettiin ja kalusto siirrettiin Jämsänkoskelle.