Life on stage and in the wings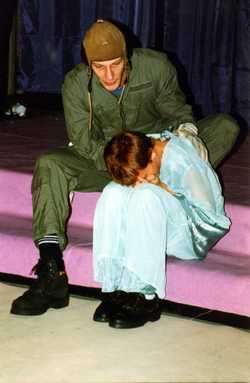 Simpauttaja and Sudenmorsian. Tukkijoella and Kaunis Veera. Thanks to an active theatre club, the people of the Jämsä area have had the opportunity of seeing many well known and some not-so-known plays during the past decades. Nowadays, J+J theatre of the Jämsä river valley continues the traditions started by workers' associations and youth clubs a hundred years ago.
Even now the drama group is an important hobby for dozens of people in the river valley. Making theatre interests people of all ages. The plays include a lot of children and young people.
The J+J, guided by a professional director, produces three to five premieres per year. In addition, the Kirnuteatteri theatre and the stages of club houses and other smaller venues show several plays a year.
Local plays have usually been quite successful. In addition to the play itself many are interested to see how their neighbours and acquaintances do in the play.
Copy: Päivi Ketolainen
Sources: Archives of J+J theatre, interviews
Pictures: Archives of J+J theatre, Yrjö Hakanen's collection