Churches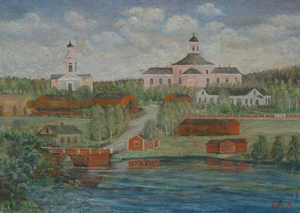 The church is and has been the centre of the village in many ways.
In the past, the distance to the church defined the borders of a parish. The area of Jämsä belonged to the parish of Sysmä founded in the 14th century. Municipalities were not formed until later. Municipalities and parishes are still closely linked. According to church law, each municipality must lie in its entirety in the area of one parish or association of parishes.
Church buildings reflect the style of the era in which they were built. Each generation has interpreted the premises of worship for the congregation in its own way and has added to it. The church premises, formed from what were originally administrative buildings, speak the language of faith. What is intriguing about church buildings is how they interpret the life of humans in the light of the Bible.
The church buildings and church yards of the Jämsä area reflect the working and holy days of the people. In war and hunger, the people's anxiety was also felt on the church hill. In times of peace and prosperity, happiness and thanks were in turn a part of parish life.
Church buildings are living places of worship. With their steeples and bells, they are visible invitations to stop and look at everlasting views. A visit to the church yard is always impressive. In this section, four churches of the Jämsä area are presented, with most information about the Jämsä church.
Terttu Etelämäki