Big and international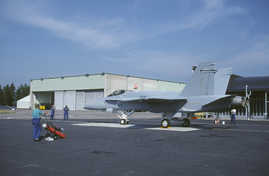 In the beginning of the 1990s, the process began for selecting a new fighter to replace the Draken and MiG-21 aircraft. The evaluation group from the test flight section became familiar with the candidates first in their countries of origin and then in Halli in the beginning of the year 1992.
The F-18 Hornet was chosen as the new interceptor and seven two-seater Hornets were bought from the US. 57 one-seater F-18C Hornet fighters were assembled in Halli between the years 1995 and 2000.
In connection with the acquisition of the Hornets, Air Force and aircraft factory personnel were trained both in Finland and the US, and Halli became a notably international town in relation to its size.
Composites for space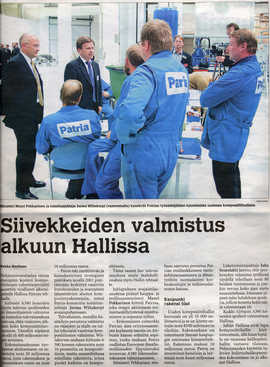 The 1980s newcomers, composites, have become a major part of the Finnish aircraft industry. A subsidiary, operating next to the Kuorevesi factory in Halli since 1989, focuses on the development of composite structures. Patria Finavicomp has made parts for the Saab 2000 passenger aircraft, the Hornet and space satellites, among others.
One of the biggest pieces of news in recent years has been the manufacturing of wing spoilers for the biggest passenger plane in the world, the Airbus A380. For this, new production space had to be built for the factory. This project guarantees work for the factory for years to come.

Final assembly of transport helicopters done at Halli
In September 2003, final assembly of NH90 transport helicopters began in Halli. The assembly is done by Patria as a subcontractor for Eurocopter S.A.S. The helicopter assembly is a part of the order for 52 helicopters placed by the Scandinavian countries. 50 of the helicopters are assembled in Halli.
The assembly work, lasting until the year 2011, has a significant impact on employment in the area. More production space has also been built for the project. The Finnish military forces received their first NH90 helicopter assembled in Finland in the year 2005.