Schools of Kuorevesi
The school system of Kuorevesi did not get off to a good start, even though the local farmers demanded one in the area. Merely hiring a travelling school teacher with tax money demanded a long debate. Finally a group of active farmers decided to start a private folk school so that the children of Kuorevesi could start learning. Premises were rented for the school in Ala-Nikkilä in Suinula and the first school year of 1886 was spent there. However, the private school had so many pupils that for the next year the school would need more space. The premises were found in the Mäkelä house in Lahdenkylä, where the school operated until a separate school building was completed in 1901. Today the school is known as the Lahti school.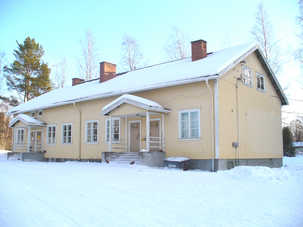 After the first school was started, the municipal school system also took off in the beginning of the 20th century. Ten primary schools were started in Kuorevesi, of which the Kuorevesi school (lower and upper stage), Lahti school and Suinula school are still in operation. Below, all the schools in Kuorevesi are introduced. At the top of the list are the schools that still operate and towards the bottom are the schools that have shut down.