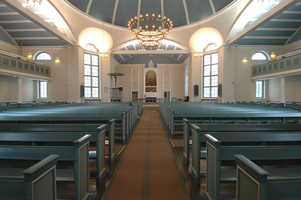 Jämsä church
The church building and its surroundings offer peace and quiet to busy people. The search for strength and the longing for God bring many inside the church. The atmosphere is impressive. The church space is experienced with all the senses. People seek knowledge.
In the Middle Ages, the church building was perceived as the house of God. Symbolic interpretation became important and details of the building were interpreted in spiritual terms. They were used to illustrate God's plan.
During the Reformation, the sermon became increasingly important and the church of the Word was born. The church space was seen as a practical space for the congregation to assemble. However, this way of thinking has not diminished the longing for sanctity. For many, the altar is still the most impressive place in the church.
Understanding of symbolism is a part of the language of faith. The church aisle symbolises the journey of life. Step inside Jämsä church. You are very welcome.
Presentation of Jämsä church, text Terttu Etelämäki
Pictures Seppo J. J. Sirkka / Eastpress
Sources: The Bible, the Book of Services and the Gospel and Jämsä parish archives, the archives of the art history department of the University of Jyväskylä, expert professor Heikki Hanka.
Links
Jämsän seurakunta (Jämsä Parish)
Keski-Suomen kirkot (Churches of Central Finland)
Tiekirkot (Road churches)