This article is not available in English. Please select another language from the navigation bar at the top.
Osasto keski-ikään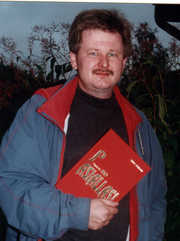 Muutamassa vuodessa tapahtui paljon. Tuli 1990-luvun alun lama, joka tosin kohteli Kaipolan paperimiehiä melko hellästi. Samanaikaisesti vanhat persoonat väistyivät osaston johdosta. Sekä Pertti Ruusu että Aku Lindroos jäivät eläkkeelle. Sukupolven vaihdoksessa Kaipolan paperimiesten pääluottamusmieheksi valittiin Seppo Suominen, työsuojeluvaltuutetuksi Pertti Suuronen ja osaston puheenjohtajaksi Kari Lappalainen.
Vuonna 1994 Kaipolan paperiosasto täytti 40 vuotta. Miehen ikään päässyttä osastoa juhlittiin myös historiikilla, jonka paikallinen toimittaja Risto Hakola kirjoitti. Samassa yhteydessä näki päivänvalon Kimmo Tukiaisen suunnittelema Kaipolan osaston viiri. Juhlapuheissa kehuttiin kuuluisaa Kaipolan henkeä, joka oli muodostunut 1990-luvulla sovittelevaksi ja asialliseksi.