This article is not available in English. Please select another language from the navigation bar at the top.
Kaipolan paperiliittolaiset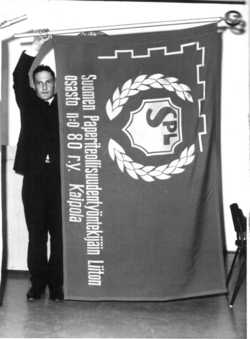 Kaipolan tehtaan paperimiesten historia on kohtalaisen lyhyt, mutta värikäs. Aluksi väen liittyminen osastoon oli hajanaista, sillä patruuna Juuso Walden pyrki huolehtimaan väestään kehdosta hautaan eikä katsonut hyvällä ay-aktivistien toimintaa. Seuraavilla vuosikymmenillä waldenilaisuus hiipui, samalla ammattiosasto kehittyi ja virkistyi. Asioita ajettiin neuvotellen ja välillä lakkoillen. Ajan oloon parannuksia työoloihin syntyi. Nykyisin paperimiehet kuuluvat ammattiosastoon lähes sataprosenttisesti. Vaikka jäsenmaksut maksetaan, käytännön järjestötoiminta ei nuorisoa kiinnosta. Aivan uusi haaste paperintekijöille on globalisaatio. Kansainvälistymisen paineet koskevat niin Kaipolaa kuin koko paperiteollisuutta.